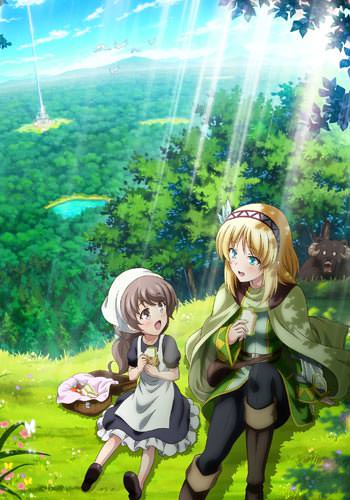 After a terrible accident, Keina ends up paralyzed, and requires help to keep her body alive. Unfortunately, an incident occurs at the hospital, and she loses her life.
However, the young woman wakes up and immediately realizes that she can move her body freely, furthermore, she has taken the form of her character in her favorite VRMMORPG game, World of Leadale.
As Cayna, she has all kinds of powers, after all, she spent a lot of time strengthening her abilities, to the point where she is considered ruthless towards other players.
However, something seems out of place, when she goes down to eat breakfast, she discovers that she is in the world of her game, but 200 years have passed.
As she tries to adjust to her new life, Cayna begins to understand why the town she lives now is no longer prosperous. And that of the seven kingdoms that existed, when she played, now only three remain.
Marelle, the manager of a hostel in town, explains the history with more details, and her daughter Lytt carefully attends to her new client.
Reviewing her stats, Cayna sees that her character is still one of the strongest, giving her the confidence to move forward.
She immediately remembers that she used to have a virtual assistant, Kee, who informs her that her body has ceased to exist, and that for some reason, she has been disconnected from the game's master system.
Now, she must search for more information, and decides to travel to the tower that she built and protected when she used to play. When she tells Marelle, she insists her to be very careful, a legend tells that a cruel witch lives in that tower.
As soon as she enters, Cayna is greeted by the tower guardian, who complains bitterly about being abandoned for so many years, and in all that time, no one has been able to overcome the challenges that she prepared.
After that, the guardian informs her that Skargo, one of her three children in the game, looked for her about 60 years ago to tell her about the unification of kingdoms.
Before leaving, the guardian asks Cayna to check if the rest of the towers in the realms are still active, after all, her own tower was suffering from the lack of magic.
On her way back to town, Cayna runs into a troubled traveler, a huge bear attacks him and he is about to lose his life, but Cayna avoids it and with a single blow ends the danger.
In the end, the bear ends up being served as the main course at a big party, at which, Cayna finds out that she should never drink alcohol.
Leadale no Daichi nite
(リアデイルの大地にて)
A light novel series written by Ceez and illustrated by Tenmaso, serialized online between 2010 and 2012 on Shousetsuka ni Narou. A manga adaptation with art by Dashio Tsukimi and composition by Ryou Suzukaze has been serialized online via Dengeki PlayStation Comic Web since 2019. An anime adaptation by Maho Film premiered in January 5, 2022.
OP
S1. "Happy encount" ~ TRUE
ED
S1. "Hakoniwa no Koufuku" ~
OP ~ Happy encount
ED ~ Hakoniwa no Koufuku