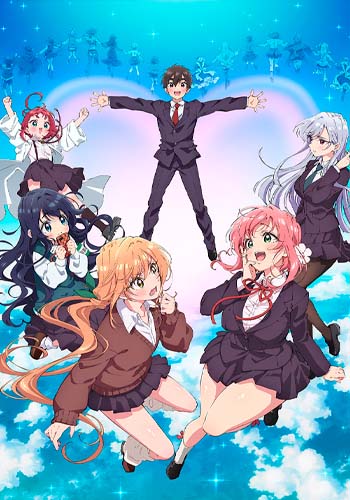 Rentarou is a boy with good feelings, but who has behaved precociously since childhood. And for some reason, he longs with all his heart to have a girlfriend.
Today, he finishes middle school, and does not hesitate to declare his feelings to a classmate, only to be rejected for the hundredth time.
Rentarou tells his sad story to his best friend, who can't believe he survived so many rejections at such a young age.
Rentarou decides to go to the temple to ask for better fortune when entering high school. And to his surprise, while he is praying, a god appears in front of him and surprises him.
The god tells him that we all have a soul mate in the world, and assures him that in high school he will meet her, and he will recognize her because both will feel an electric shock in the body. As he gives more details, he lets Rentarou know that he will have 100 in the next three years.
Rentarou can't believe it, but the god tells him that due to a mistake he made in his work, he ended up writing that amount on one of his job forms.
After a few weeks, classes start at Rentarou's new school, and he is determined to enjoy it. As soon as he enters, he runs into two girls, Hakari and Karane.
Immediately, the three feel an electric shock. Rentarou knows what it means, but not the girls. He comes over to help them, and when Hakari looks at Karane, she understands that Karane also felt something special for Rentarou.
Hakari pretends to be hurt and asks Rentarou to accompany her to the infirmary, and upon hearing her, Karane also complains about her leg, but she does not accept the young man's help at first.
In the end, Rentarou ends up hugged by the two girls, and along the way they listen a school legend, which indicates that whoever finds a special clover could have a special relationship with the person to whom it is shared.
Hours later, Rentarou observes Hakari and Karane searching for the clover, and understands that they are doing it for him.
Approaching, Rentarou shares a drink with Hakari while Karane becomes jealous. At that moment, the two declare their love for him and he doesn't know how to answer them. After all, he has always been the rejected one and he understands what it feels.
Rentarou decides to go to the temple to pray, and the god appears again to give him bad news. If he doesn't treat his soulmates well, and rejects them, they will lose their lives.
With this news, Rentarou understands that he must treat the situation carefully. And after considering all of his options, he turns to the legend of the clover and spends the entire night searching for a couple.
Somehow, he convinces Hakari and Karane, and Rentarou has two girlfriends, and 98 to go.
Kimi no Koto ga Dai Dai Dai Dai Daisuki na 100-nin no Kanojo
(君のことが大大大大大好きな100人の彼女)
Also known as Hyakkano or The 100 Girlfriends Who Really, Really, Really, Really, Really Love You, is a manga series written by Rikito Nakamura and illustrated by Yukiko Nozawa. It has been serialized in Shueisha's Weekly Young Jump magazine since December 2019. An anime adaptation by Bibury Animation Studios premiered in October 8, 2023.
OP
S1. "Dai Dai Dai Dai Daisuki na Kimi e" ~ Kaede Hondo, Miyu Tomita, Maria Naganawa, Asami Seto, Ayaka Asai
ED
S1. "Sweet Sign" ~ Nako Misaki
OP ~ Dai Dai Dai Dai Daisuki na Kimi e
ED ~ Sweet Sign